Lodging information at Sanrojo 
Spend the night on Mt. Yudono after a long day of hiking, Yamabushi training, or to prepare for an early morning of adventures the next day.  This lodging includes Shoujin Ryori Meals, and bathing fees.
Sanrojo has a variety of rooms suited for solo traveler to large groups.  The rooms feature tatami mat floors and roll out futon bedding.
The all inclusive fee for staying at Sanrojo is 8,950 per person.
See below for our room types and amenities.
Please check room vacancy and make your reservation here.
Large Rooms
These are large rooms where multiple guests can stay in together.  You may arrange your rollout futon beds as you wish.
If you have valuables that you wish to keep secure, you may store them in lockers on the first floor.
Note that there are no bathrooms or baths in this room.  The bathrooms and baths are located in the hallways and the baths are in other parts of this Japanese Inn.
Small Rooms
We also have smaller rooms that are suitable for smaller parties.
For groups wishing to reserve these smaller rooms, please put in your reservation as far in advance as possible.
Depending on the number of guests staying at Sanrojo, it may not be possible to place you in these rooms and there are some cases where different parties may need to share space in the large rooms.
If we will need to place your party in a room that is shared by other groups, we will be sure to notify your party in advance and can accept cancellations for this reason at no cost.
Please note that both the men's and women's bathrooms and bathing facilities are shared and are separate from the small or large rooms here.
Sanrojo also has wifi access, lounges on the first and second floor, and vending machines that sell drinks and alcohol on the first floor.
---
Room equipment and amenities
| | |
| --- | --- |
| TV × | Bathroom × |
| Key ○ | Toothbrush × |
| Yukata ○ | Towel × |
| Electrical outlets ○ | Wifi ○ |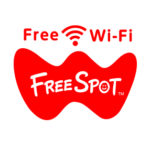 Free high speed wifi is available for guests.  Please see the PDF below for information on how to register your device.
→How to Register Your Device to FREESPOT(PDF)
Additional Notes:
A shojin ryori dinner and breakfast are provided, see the meal section for more information.

Towels are available for 300 yen each.

Bathrooms are located in the second and first floor.

A hotspring bath is in the B1F and a more modern bath is on the 1st floor.

Note that these are public baths